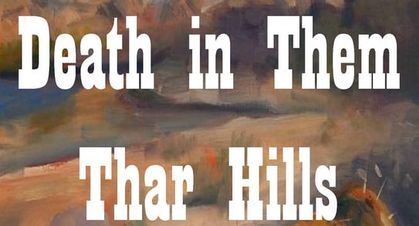 Important Information About the Show

•
Death in Them Thar Hills
is not a traditional stage play; in fact, there is no action on the stage at all.
• The show is an interactive murder mystery dinner experience. The action takes place around the patrons beginning the moment they enter the theater.
• Dinner will be served in the theater.
• All seats are $25, including dinner.
• There is an opening night special: 2 tickets for $45.
• A group price of $23 per person is available when purchasing 10 or more tickets at the same time.
• There is no "show only" ticket.
• Membership free tickets may not be used for the show, as it is a dinner experience.
• Patron/Season Pass tickets may be used for the show.
• There is only seating for 60 people per night.
• Guests will be sitting at tables of eight (8). Guests cannot reserve specific tables. Ushers will direct guests to their tables.
• Catering will be provided by
Sonny's BBQ of Valdosta
:
o Pulled pork
o Potato salad
o Baked beans
o Dinner rolls
o White cake
o Sweet tea or water
• There are no food substitutions available.
• It is not a buffet. Guests will go through the dinner line and be served by Sonny's staff.
• No outside food may be brought in.
• While TGV will not serve alcohol, guests may BYO.
• To maximize their enjoyment, guests should arrive early and be willing to participate by interacting with the characters as much as possible. Clues for the solving the case will be all around, so pay close attention.